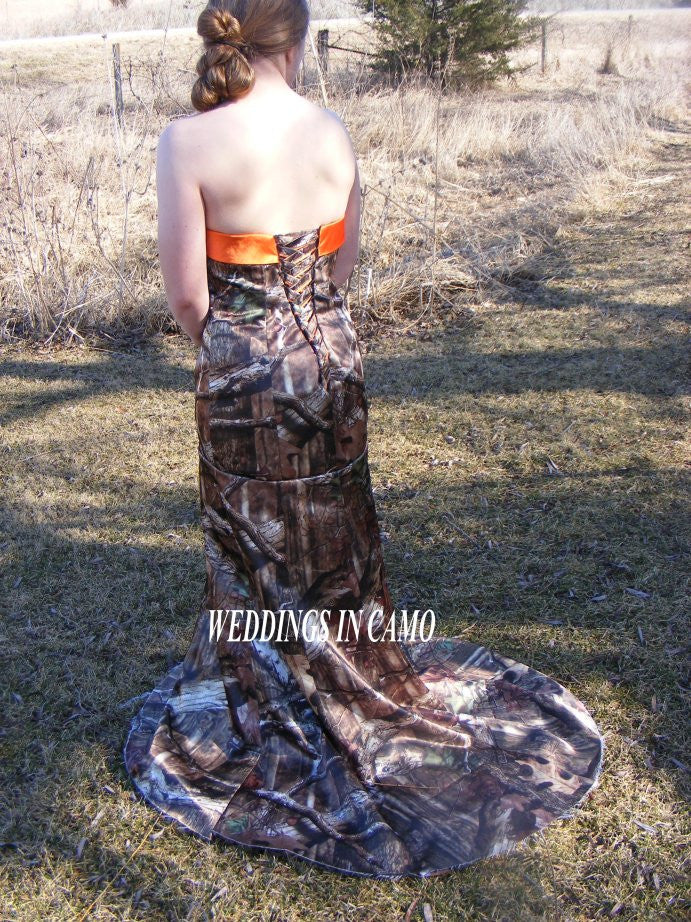 CAMO DRESS trumpet style+PLUS size 16 to 24+CORSET back+ Flare bottom and train
$388.50
WEDDINGS IN CAMO.com Strapless dress with a fitted torso and trumpet bottom. The train is a sweep train. If you want a longer length or changes to the style of this dress, please contact our Design Team.
This dress is available in 14 beautiful CAMO satin fabrics. Please specify the color you would like for the banded top and the corset ties in **notes** when ordering.

SHOWN in INFINITY with BLAZE orange satin for the banded
top and ties. The under dress has a full crinoline slip. You will not need any
other under slip.
*********************************

****SAVE $45****If you need to save money, a zipper back
can be used instead of the corset ties. The zipper option is
available in our shop listings.
*******************************

Allow plenty of time for production. Wedding dresses are ready to ship in
6-8weeks.

We use some of the finest fabrics and use special care in constructing your
dress. Keep in mind, bargain dresses are just that, bargain fabrics. Make
your wedding day special and wear only the best.



SIZING CHART: WOMEN'S
-------------0--------2-------4---------6--------8--------10-------12------14-------16
BUST----32-------33------34-------35-------36-------37.5-----39------41-------43
WAIST--25.5-----26.5----27.5-----28.5----29.5-----31-------32.5----35-------37
HIPS-----35.5-----36.5----37.5-----38.5----39.5-----41-------42.5----44.5----46


SIZING CHART: WOMEN'S plus
--------------18------20------22------24W------26W------28W-----30W-------32W
BUST-------45.5---48------50------ 53---------56---------59---------62--------- 65
WAIST-----40------42-----45-------48---------51---------54---------57----------60
HIPS--------49------51-----53.5-----56.5-------59.5-------62.5------65.5--------68.5

TRAIN FOR THIS DRESS IS SWEEP. Trains will vary length from
waist to floor, depending on the design intended.

Approximate lengths of train styles

Sweep train----50" from waist
Chapel train----54" from waist
Semi-cathedral length----60 ½" from waist