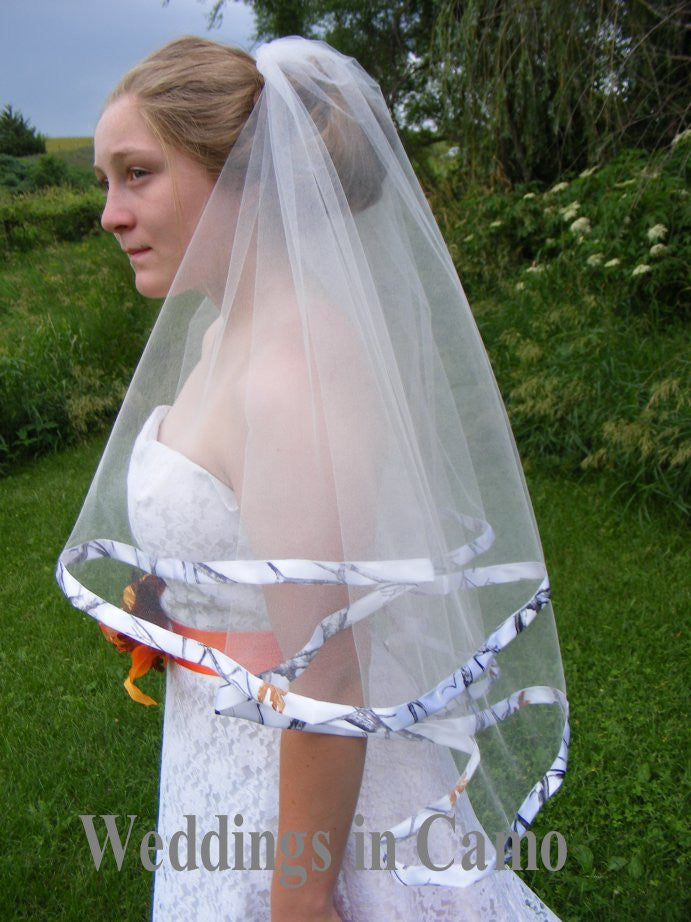 CAMO VEIL+Double Layer Ribbon Trimmed Veil
$74.99
WEDDINGS IN CAMO.com This veil is circular tulle and is trimmed with CAMO ribbon, printed on both sides.  Shown as the Waist length version, which displays the beauty of this veil.
Veil Lengths:(listed as SIZE) Shoulder 15"x20", Elbow 20"x25",
Waist 25"x30", Fingertip 30"x36"
AVAILABLE RIBBON COLORS: (listed as Color)
***If you do not see your CAMO color listed, PLEASE SELECT
"PICK your CAMO color" ---add a note to your order with
one of the following CAMO colors: Shadowgrass BLADES,
Mossy Oak DUCK BLIND, Camo West HYBRID, Mossy Oak
WINTER, True Timber CONCEAL, True Timber HARVEST,
MC2 BLAZE, MC2 BLUE, PINK Snowfall

AVAILABLE TULLE COLORS:(listed as Color of Tulle)
white, diamond white, and ivory.

SHOWN as Diamond White tulle with True Timber SNOWFALL ribbon.


BRIDAL SEASON--Delivery could be from 2-3 weeks depending on volume of orders.

Other colors available upon request
Attached Comb
Dry clean only
Made in the U.S.A.