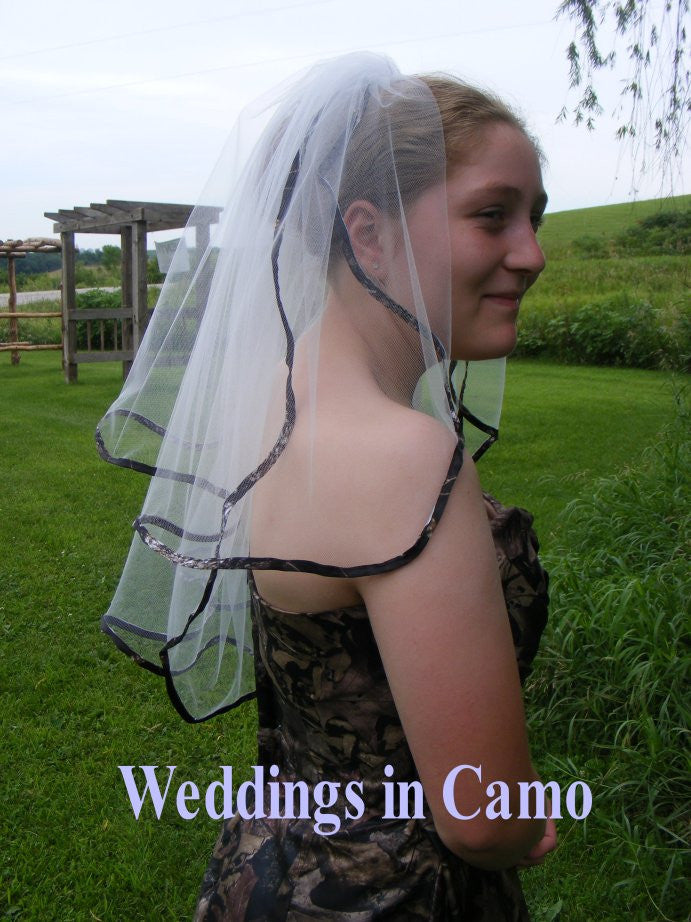 CAMO VEIL+RIBBON Edged+Scalloped edge CAMO wedding Mossy Oak available
$74.99
WEDDINGS IN CAMO.com Delicate ribbon edged veil has a scalloped edge and is two layers of illusion. The veil can be worn more forward as pictured or towards the back of the head.
Size (Veil Lengths):
Shoulder 15"x20", Elbow 20"x25", Waist 25"x30", Fingertip 30"X36
CAMO ribbon colors are:
Mossy Oak New Break Up, White Snowfall, Pink Snowfall
SOLID ribbon colors:
Ivory, Black, Orange, White and Diamond White.
Color of Tulle:
white, diamond white, and ivory.


SHOWN as Diamond White tulle with Mossy Oak ribbon, Elbow length.


BRIDAL SEASON--Delivery could be from 2-3 weeks depending on volume of orders.

Other colors available upon request
Attached Comb
Dry clean only
Made in the U.S.A.