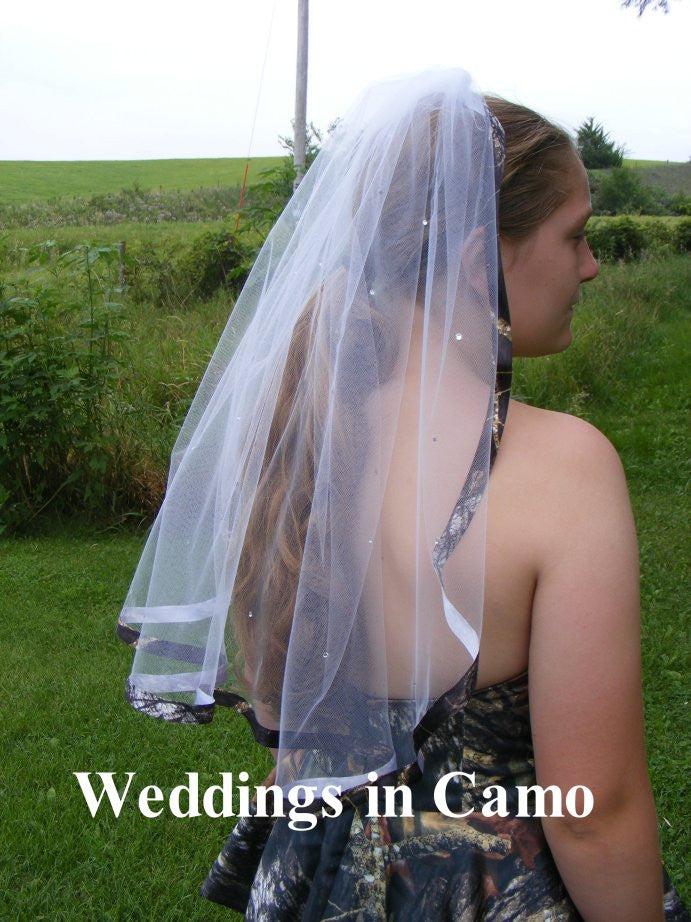 CAMO VEIL+Ribbon with CRYSTALS Single Layer VEIL
$64.99
WEDDINGS IN CAMO.com This veil has one layer of illusion and is trimmed with CAMO ribbon and CRYSTALS are scattered . CAMO ribbon colors are Mossy Oak New Break Up, Snowfall White and Pink Snowfall.  Ribbon is screen printed, so the back side is white.


Size (Veil Lengths):
Shoulder 20", Elbow 25", Waist 30", Fingertip 36", Knee 45", Floor 72", Chapel 90"
CAMO Colors:--ribbon colors
Color:--tulle color or netting---White, Ivory


***SHOWN IN White with Mossy Oak New Break up Ribbon with CRYSTALS****

BRIDAL SEASON Order early! Due to high volume of orders, shipping is up to 2 weeks. Rush orders are available.

Other colors available upon request
Longer Lengths upon request
Attached Comb
Dry clean only
Made in the U.S.A.