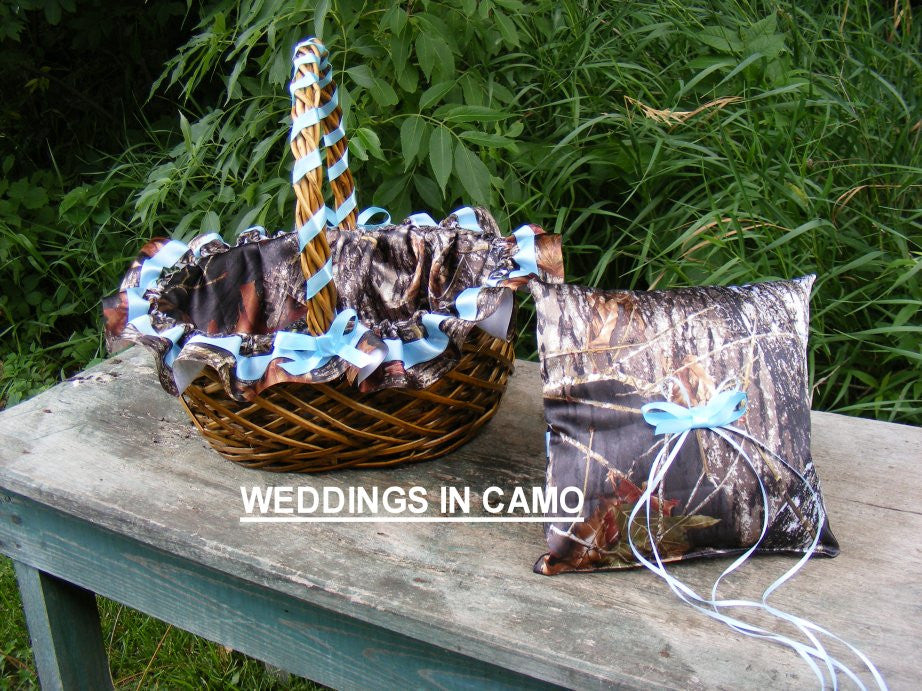 CAMO WEDDING Accessories Flower Girl Basket and Ring Bearer pillow for Country Wedding
$45.50
WEDDINGS IN CAMO.com  WEDDING ACCESSORY SET***comes with  RING BEARER pillow (CHOOSE size) (3) sizes:  8 inch, 10 inch and 12 inch and a FLOWER GIRL Basket  (basket shapes will vary upon supply) 
Pillows are accented with complimentary ribbons and a complimentary back color.
***PLEASE ADD NOTE for the color you want on the back***
***CUSTOMIZE****** Tell us your wedding colors and we will make a custom pillow for you!
SHOWN:  Advantage MAX4 with tan on the back, MUDDY GIRL with black back
True Timber Snowfall white with Black on the back, Mossy Oak New Breakup with Sky Blue
SHOWN IN PHOTOS--There are ribbons in the center to tie the rings onto
(or fake rings if you choose).  There is a ribbon on the back for the ring
bearer to place his hands through.
    Other colors available upon request
    One Size Available
    Made in the U.S.A.